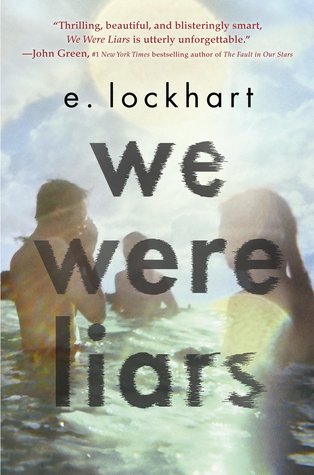 When I picked up We Were Liars, I didn't know nothing about it. I read that John Green recommended it and I thought it'd be good. But
HOLY COW, IT WAS FREAKING AMAZING!!!
This book is like a bomb and it exploded in my hands! It shattered my mind and made me cry like a baby in the end!
Oh God, from where do I start?
The book didn't capture my full attention from the very beginning, it took me a while to get comfortable with the entire Sinclair family. This very powerful, big and wealthy family composed by the Liars (Cadence - first grandchild, Gat - who was like Johnny's stepbrother, and her cousins Mirren and Johnny), their grandpa and grandma Harris & Tipper Sinclair, Carrie - Johnny's mother, Penny - Cadence's mother, Bess - Mirren's mother and Bess and Carrie's other kids (4 more kids, to be exactly).
BEAUTIFUL
PRIVILEGED
DAMAGED
LIARS
The story is told from Cadence's POV, about how she suffers a strange accident on Beechwood Island (the Sinclair's private island) on summer fifteen and how she tries to remember everything. Before the accident, she and her friends are inseparable, they do everything together because they are the LIARS. But something goes wrong and they do something bad, like really BAD. Then Cad's found almost dead on the tiny beach with a damaged brain.
"I'll be fine, they tell me. I won't die. It'll just hurt a lot."
For two years, the girl doesn't return on the island and doesn't remain in touch with the Liars. Till she decides that she must return to clarify things.
From now on, the story gets better and better. I won't say anything about it because it's very complicated. The author leads you in the wrong direction of the story, you think you know what will happen in the end, but you are so WRONG! You can't predict that fu**ing ending! AND IT HURTS PEOPLE, IT REALLY HURTS!!!
"They know that tragedy is not glamorous. They know it doesn't play out in life as it does on a stage or between the pages of a book. It is neither a punishment meted out nor a lesson conferred. Its horrors are not attributable to one single person. Tragedy is ugly and tangled, stupid and confusing."
"Here I am frozen, when I deserve to burn."
Like I already said, I cried while reading the last 20 pages. And after I finished it, I was relieved, sad and happy at the same time. I love books that give me all the feels, they're simply great!
I think I forgot to mention that we also have a forbidden love story here between Cad and Gat. I say forbidden because they never get a chance to be together, and Cad's family doesn't really like Gat (he's black and not an authentic Sinclair). This adds more mystery to the story and makes it more interesting.
"One day I looked at Gat, lying in the Clairmont hammock with a book, and he seemed, well, like he was mine. Like he was my particular person."
GO BUY IT, READ IT & LOVE IT!
RATING
What's your opinion about WE WERE LIARS? Have you read it?